Rotor Electric Company was established in 1947, as an electrical contractor specializing in maintenance, repair services, and small construction projects in the Detroit area. The diversity of clientele such as Hygrade Foods, United Dairies, Kasle Steel Corporation, Beckwith-Evans, and others has afforded the company the opportunity of gaining experience in a wide range of electrical installations.
Pollution Control & Water Purification
In the early 1960s, Rotor Electric began what was to become an ongoing involvement in the field of pollution control and water purification. Rotor Electric functioned mainly as a subcontractor on such projects as water purification plants, wastewater treatment plants, sewerage treatment plants, and pumping stations. This involvement gave the company a strong background in the area of high voltage installations, as well as, complex instrumentation systems.
Design/Build
Since the 1980s, Rotor Electric has predominately been involved as a subcontractor on both competitively bid and design/build public contracts for various government agencies. Rotor Electric has a firm commitment to expediting, scheduling, coordinating, construction, and quality workmanship. When awarded a project, the company is a total systems responsibility contractor. Rotor Electric manages all vendors, subcontractors, and trade personnel in an efficient, timely, and constructive manner.
Increased Resources & Capacity
On June 30, 2008, Rotor Electric Company cemented a 20-year working relationship and became a subsidiary of Motor City Electric Co. and began operating as Rotor Electric Company of Michigan, LLC.
Value-added Services
Rotor's customers can take advantage of our numerous Value Added Services including:
In-house Testing Services
Rotor has extensive electric system testing capabilities and equipment to help our customers ensure the safety and accuracy of their electrical systems and operations.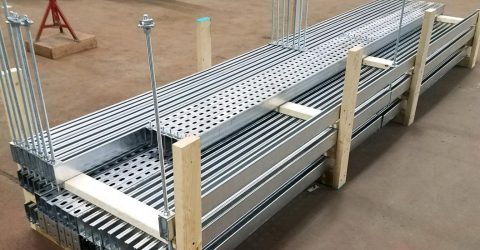 Prefabrication & Modularization
Through our affiliate, Motor City Electric Co. (MCE), we are able to prefabricate and modularize a variety of electrical assemblies and panels to save customers time and money.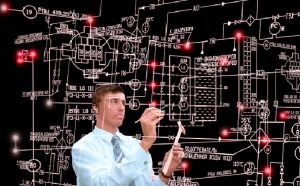 Engineering
Our team of professionals includes multiple engineers who can help ensure that your project is constructed, installed an maintained safely and effectively.

Professionalism & Dedication
Everywhere I go, people come up to me and want to talk abut the repair of the 15 Mile Interceptor. They want to talk about how that was an enormous job and how confident they feel that is was done right. They talk about how it was finished on time and on budget. I simply cannot tell you how proud I am of the work that was done by our team on that project. Next month, the American Public Works Association will formally recognize the 15 Mile Interceptor Repair as a 'Project of the Year.' You share a piece of that award.

I particularly remember a few nights in the early going, watching the SCADA lines climb as we prepared to dump raw sewage into the Clinton River during a heavy rain. So many of you were there, nursing along the pumps in our command center … doing all that we could not to have to further damage our fragile river. Thanks to your efforts we never had to spill a single drop of sewage into the river after I took office. I will never forget the work you did those nights and all that was accomplished on the 15 Mile Road project. I was and remain incredibly proud to have you on our team.

Candice S. Miller
Macomb County Public Works Commissioner