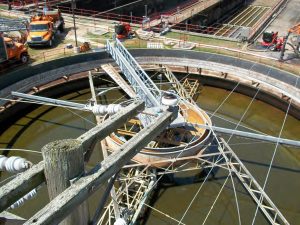 In order to accept and treat the additional flow from the Perry Street Pump Station at the Pontiac Wastewater Treatment Plant (WWTP), several improvements to the Plant are necessary, including a new handling and receiving facility. The Pontiac WWTP Biosolids Handling and Septage Receiving Facility project includes:
Construction of a new thermal hydrolysis pretreatment (THP) system
Sludge dewatering system improvements
Expansion, and improvement of the existing dewatered biosolids storage facility
Construction of a new septage receiving facility
The THP system is a newer and innovative process that involves conditioning of the sludge under high heat prior to anaerobic digestion. This process results in a more easily digested sludge and a Class A biosolids.
The total estimated project cost is approximately $36 million. Construction began in 2017.
Rotor Electric of Michigan was awarded the electrical services contract for the project by general contractor Tooles Contracting. The work includes, but is not limited to, installation of:
New belt conveyors and walkway from the biosolids handling building to the sludge storage pad
New process water system including both high pressure process water system and a low-pressure process water system
New primary (raw) solids pumping system and new secondary digester cover
New primary and secondary digester mixing systems and new digester gas piping and conveyance
New digester solids recirculation system
New septage receiving equipment
New solids screening and blending systems
New pre-dewatering system and cake hopper
New post-dewatering system and solids conveyors
New dewatering polymer systems
New steam boiler system
The thermal hydrolysis pretreatment (THP) system
In addition, the waste gas burner is also to be reconstructed.
Rotor Electric is furnishing the necessary electrical labor, material, equipment, and services for the project along with furnishing 13 Variable Frequency Drives (VFDs). These VFDs operate pre-screen blend, pulper, post dewatering centrifuge feed, raw sludge, and digester recirculation pumps, as well as the exhaust fan. We are also furnishing and installing precast concrete handholes, performing electrical demolition, and securing permits.